MALO CLINIC Protocol - All-on-4® with Immediate Function
"Did you ever dream of an amazing vacation in Thailand and get yourself a brand new and gorgeously beautiful smile in just a single trip?"
All-on-4® surgical technique with Immediate Function Implants can turn your dream into reality!



All-on-4® treatment with Immediate Function All done in a single day – not only the surgery, but also the placement of fixed (non-removable) teeth with immediate function is a new protocol that allows you to leave our office with a whole set of permanent fixed teeth in just a single trip to our amazing country. This protocol ensures you of a custom-designed, perfect-for-you smile - all while enjoying your visit in the Land of Smiles!
Suitable for ALL bone quantities. None or very small bone graft required
Flapless and Painless procedure , when combined with NobelGuide™
Simplicity and Predictability from a surgical perspective
Well-balanced prosthetic support for an Immediate Function™ procedure
Attractive prosthetic solution, Immediate Function & Fixed Prosthesis
Fast , permanent, and cost effective solution
There are more than 300 million people around the world with a missing tooth/teeth condition. Edentulism (loss of all the teeth) is actually a more common oral issue than many realize. A lot of researchers and experts, along with long clinical studies, have proven the effectiveness and long-term results of dental implants, specifically on the positive effects of osseointegration and bone preservation.
In general, dental implants are the ideal solution to replace missing teeth. However, there are some patients who may have been discouraged to avail of dental implants or advised to undergo bone grafting procedure which is time-consuming, painful, and costly, all because of the lack of sufficient bone volume.
With the MALO CLINIC Protocol All-on-4® Immediate Function Implants, everyone can get a brand new smile in a single visit, even if you've been advised that you are not a suitable candidate for implants or you don't have enough bone structure for the procedure.
This cutting-edge implant dentistry solution has been developed to maximize the use of available bone and simultaneously allows for immediate function. It provided a pivotal change into what has become the "traditional thinking" with regards to immediate-loading for edentulous patients. The concept takes a simplified approach to the entry-level fixed restoration, thus paving the way to make the treatment affordable for an even greater segment of the population. The All-on-4® concept's main difference is that the procedure uses tilting posterior implants. This technique facilitates an optimal support for an acrylic dental bridge that can be fabricated and functioning within just a few hours after surgery.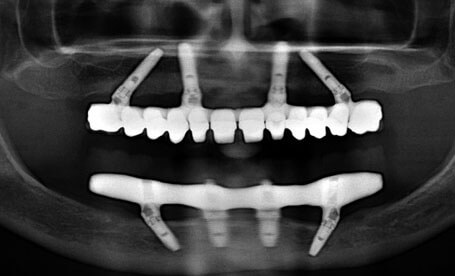 Is this treatment available in many dental clinics?
NO. The All-on-4® treatment along with the immediate-loading concept are relatively advanced procedures in the world of dental care. The treatment requires well-experienced and highly-trained dental specialists as well as dental lab technicians to successfully perform such an advanced concept. Our dentists and lab technicians have undergone enormous training in implant dentistry, immediate implant placement, and implant prosthodontics to gain such expertise on the All-on-4® treatment concept. Equipment being utilized by the treatment are highly-sophisticated, the materials are intricate and valuable, and everything is subject to meticulous sterilization processes.
MALO CLINIC Bangkok is committed to provide our patients from all over the world the perfect solution to an edentulous condition. With the most advanced technique in the placement of implants and meticulous engineering of restorations, the All-on-4® treatment will bring back your healthy and beautiful smile the moment you leave our clinic.
Is the procedure expensive?
Treatment with immediate-loading dental implants, by its very nature, is a big investment. The success of the procedure mainly requires highly-skilled professionals who work as a team in carrying out a customized treatment plan. The equipment and materials are sophisticated, intricate, and valuable. However, an All-on-4 treatment can be less costly when compared to any traditional dental implant procedure, mainly because the procedure allows for lesser commitment with regards to time for both the patient and the dentists. Since the treatment allows you to leave our clinic with your new smile, everything can be accomplished in a single trip.
Patients who prioritize their smile and oral health care usually opt for dental implants and consider the cost as a worthwhile lifetime investment. Unlike the rest of the human body, our mouth's "youthfulness" can be preserved right up to the age of one hundred. Let alone the idea of being able to eat and chew food properly for all of one's lifetime while wearing a timeless smile to share with the world, truly makes it worth to preserve our mouth in its best condition.